IES Software Training
Live Webinars
Dive deep into practical modeling, loading, analysis, design, and reporting tasks with an IES developer. Attend a 90-minute webinar and receive a PDH certificate of attendance.
We are working on a schedule for 2020. Watch here for details.
---
VisualAnalysis Classroom Training
Get one day of VisualAnalysis training beyond the basics. Limited class size for personalized assistance.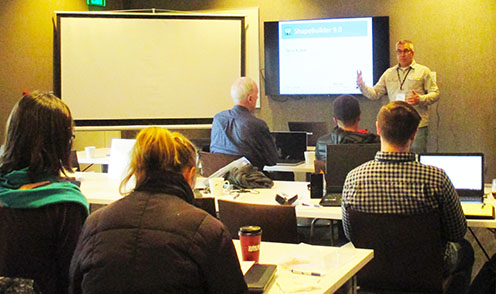 Learn the Practical Art of FEA
Finite Element Analysis is both an art and a science, and one that many engineers do not take in school. Learn how to master this technology. Create structural models that are both efficient and accurate. Learn how to control and solve instability problems. Understand the basic theory and limitations of the software. Get practical insights from an IES developer with experience helping engineers solve real problems.
Topics may include advanced member capabilities, plate meshing and refinement, nonlinear modeling, load combinations, area loading, ASCE 7 wind loading, P-delta and AISC Direct analysis, dynamic analysis, performance concerns, result validation, reporting, BIM capabilities, and more. Content will be customized for actual attendees. Other IES tools may also be covered.
Where and When?
There are no classes scheduled in the near future.
Previous Locations
Boston, MA
Newark, NJ
Las Vegas, NV
Minneapolis, MN
Bozeman, MT
---
On-Location Custom Training
Bring IES to your company or event. Minimum cost is approximately $2800 to cover our travel and time expenses and one full day of training. Contact the sales office to discuss options.
---
Self-Directed Training
Free

Recorded Videos

We have recorded training videos that you may watch on your own, picking and choosing topics. Most videos are very short demonstrations of specific features or concepts. You can find these videos directly through the product's Help. Most products (VA, SB, VF, VX, CB, CS, and VP) have free training videos. There are no training videos produced (or generally required!) for the Quick products.

Videos are hosted at: YouTube.com/ieswebdotcom, which you may browse or search.